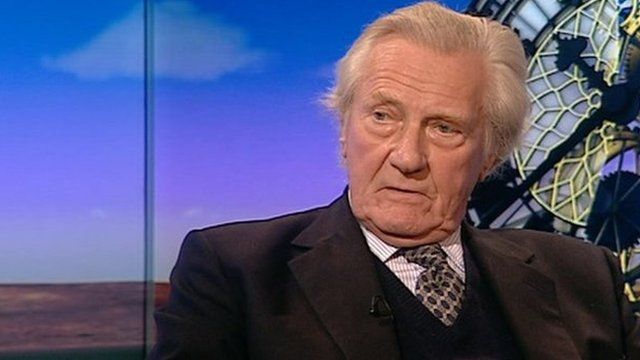 Video
Heseltine warns Tories on links to 'racist' UKIP
A former deputy prime minister said that UKIP was a racist party, and he warned his own Conservatives to "beware what happens to your pivotal vote."
Lord Heseltine said "we have seen UKIPs before", as he drew parallels with Enoch Powell in the 1960s and Le-Pen-style politicians in France, Germany and Holland.
The former Conservative MP told Andrew Neil on the Daily Politics: "Of course it is racist, who doubts that? The language, the rhetoric, the membership, who doubts it?"
He said: "You always have these right-wing racist operations pandering to the lowest common denominator in politics."
But the peer said the choice for British voters at a general election was between David Cameron and Ed Miliband as prime minister.
And he warned his party there was "a high electoral price to pay" linking up with UKIP, and claimed voters would move out into the middle ground.
BBC party conference coverage index
More from the Daily Politics: Watch full programmes from the last seven days via BBC iPlayer; 'like' us on Facebook page or 'follow' us on Twitter
Go to next video: Putting 'UKIP cat among Tory chickens'