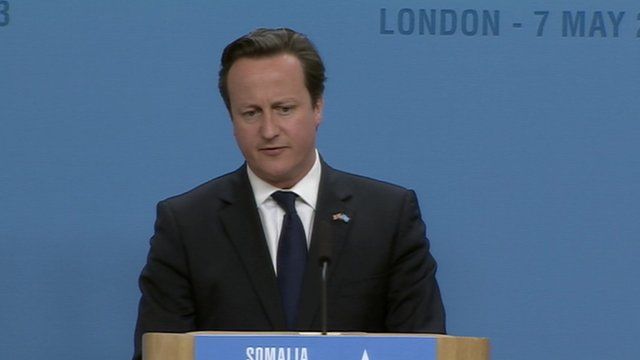 Video
David Cameron: 'Good day' for EU referendum pledge
David Cameron has said that Lord Lawson's call for the UK to leave the European Union has drawn attention to his pledge to hold a referendum on EU membership after the general election.
The prime minister says he will hold a vote early in the next Parliament - should the Conservatives win the next general election - but only after renegotiating the terms of the UK's relationship with the EU.
In an article in the Times, Lord Lawson, a former Chancellor of the Exchequer, predicted that any changes achieved by David Cameron's attempts to renegotiate the terms of the UK's relations with the EU would be "inconsequential".
Mr Cameron was asked about Lord Lawson's comments at a news conference after an international meeting about improving security in Somalia.
Go to next video: Farage welcomes Lawson EU comments