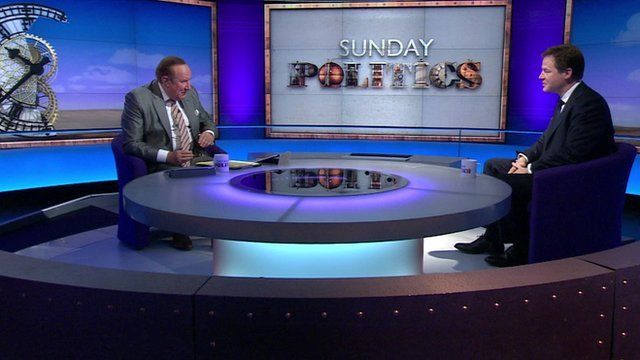 Video
Nick Clegg on economy, house building, welfare, Qatada
Rebalancing of the UK economy was "taking longer longer than we could reasonably have hoped", Nick Clegg has said.
The deputy prime minister claimed the government was "absolutely injecting new initiative" as he spoke to Andrew Neil about building more homes and he claimed these were "starting to feed through the pipeline".
He said the government was making the UK "lean and mean and competitive... but sustainable in the long run" as they spoke about heavy engineering and carbon policies.
They also spoke about Thursday's local elections, welfare, the Communications Data Bill and security issues.
MORE FROM THE DAILY & SUNDAY POLITICS
Watch more clips of films and interviews; 'like' us on our Facebook page; watch the Sunday Interviews with Andrew Neil, follow us on Twitter or watch programmes from the last seven days on BBC iPlayer