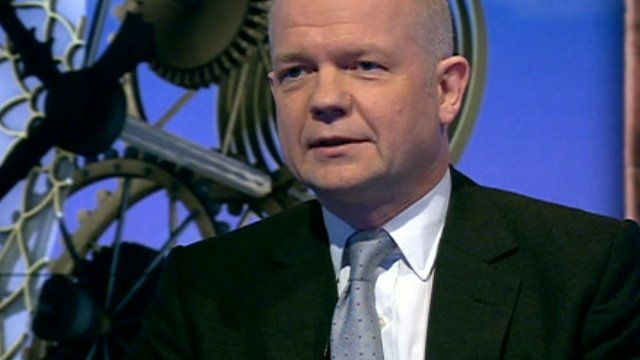 Video
Hague: 'MPs can make own decision' on gay marriage
Foreign Secretary William Hague has told BBC One's Sunday Politics that MPs need to "make their own decision" on how to vote on the Marriage (Same Sex Couples) Bill.
Mr Hague said: "If we weren't debating it now, it would be an issue at the next general election."
The bill would enable same-sex couples to get married in both civil and religious ceremonies, where a religious institution had formally consented, in England and Wales.
MPs will have a free vote on the issue, meaning they will not be issued orders by party whips.
Watch full Sunday Interview: Andrew Neil and William Hague
MORE FROM THE DAILY AND SUNDAY POLITICS
Watch more clips of films and interviews; 'like' us on our Facebook page; watch the Sunday Interviews with Andrew Neil, follow us on Twitter or watch programmes from the last seven days on BBC iPlayer
Go to next video: Hague: No job swap with chancellor