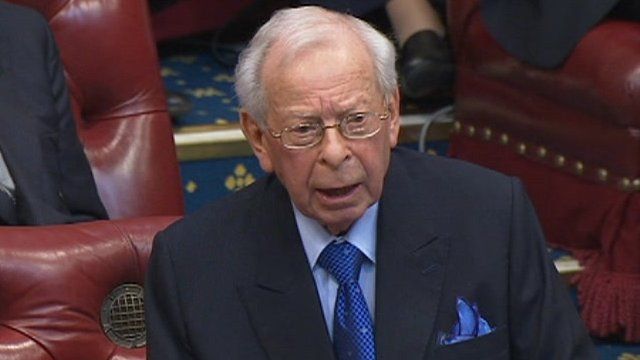 Video
Lord Barnett accused of 'gross discourtesy'
Former Labour treasury minister Lord Barnett reacted with anger after being accused of "gross discourtesy" by Leader of the Lords, Lord Strathclyde.
Lord Barnett had complained about the way the Lords had been informed of government plans to underwrite up to £40bn of infrastructure spending.
Amid cries of "withdraw" and "cheap" Lord Strathclyde suggested an induction course could be arranged for Lord Barnett, 88, who has been in Parliament's upper house for 30 years.
Lord Barnett was a cabinet minister during the Callaghan Labour government and gave his name to the formula used to decide on funding settlements for England, Scotland and Wales.