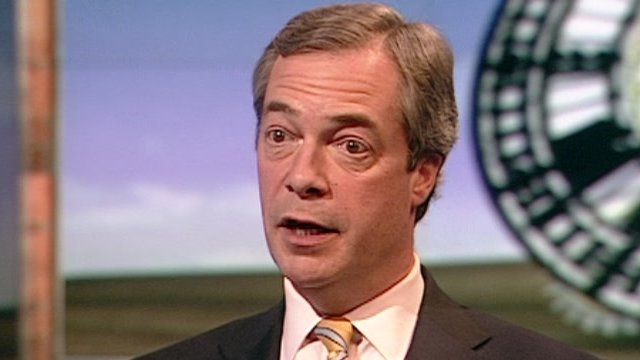 Video
Nigel Farage calls on Conservative MPs to join UKIP
Nigel Farage told Conservative MPs unhappy with David Cameron they were "in the wrong party" as he was asked about rumours of defections to UKIP.
He said the prime minister had "no understanding of the striving classes", had the wrong policies on Europe, was a "bit like Blair, just not as good at it".
The party leader was also asked about a spat with Baroness Warsi and he described her as "the lowest-grade chairman the Tory Party has ever had".
MORE FROM THE SUNDAY POLITICS
Watch more Sunday Interviews: Harriet Harman -- Nick Clegg -- Grant Shapps -- Andrew Lansley -- Ed Balls -- John Cridland -- Iain Duncan Smith -- Alex Salmond -- Liam Fox -- Michael Moore
More clips and news on our BBC website; 'like' us on Facebook page; follow us on Twitter
Go to next video: UKIP made 'good steady progress'