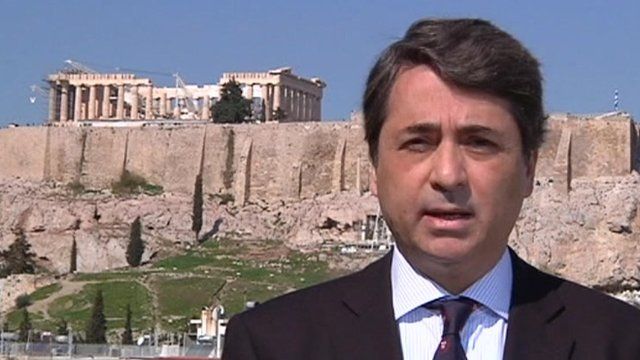 Video
Greek minister Constantine Papadopoulos on euro and wages
The Greek minister for International Economic Relations has said the nation had no plans to leave the eurozone but admitted: "We need to do a lot more."
Andrew Neil asked Constantine Papadopoulos why other EU nations should believe the latest promises over reform when previous pledges had not been fulfilled.
The minister said "we have no other choice, it has come to the crunch" as he pledged to bring Greek wages in line with Spain, but said leaving the euro would kill off the economy.
European finance ministers are expected to finalise a 130bn euro bailout for Greece on Monday, with cuts in pensions, the minimum wage, salaries and the loss of 150,000 public sector jobs.
MORE FROM THE SUNDAY POLITICS
More clips and news on our BBC website; 'like' us on Facebook page; follow us on Twitter