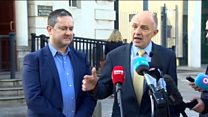 Video
Ashers bakery 'gay cake' appeal defeat reaction
The Christian owners of a Northern Ireland bakery have lost an appeal against a ruling that their refusal to make a "gay cake" was discriminatory.
"The fact that a baker provides a cake for a particular team or portrays witches on a Halloween cake does not indicate any support for either," said the appeal court judges in their ruling.
Two years ago, the family-run firm Ashers refused to make a cake for gay rights activist Gareth Lee with the slogan "Support Gay Marriage".
Mr Lee welcomed the ruling, as did the Equality Commission's Michael Wardlow, while Ashers boss Daniel McArthur of Ashers said the case was "never about the customer", and called for a change in the law.