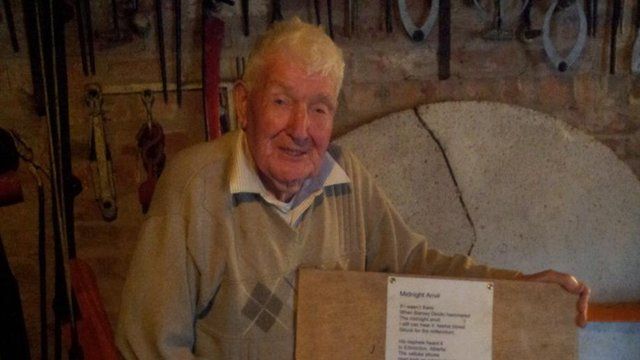 Video
Heaney and the blacksmith
The blacksmith behind the famous Seamus Heaney poem The Forge has said there will never be a man quite like the Nobel Laureate.
Barney Devlin, who is almost 95, from Hillhead near Bellaghy opens the forge for visitors on a weekly basis in rural County Londonderry.
The poem, which was penned in 1969, starts: "All I know is a door into the dark."
Barney said: "Taking visitors from across the world through the dark door is like a second pension to me in my old age. It's busy and it's a real honour.
"Seamus will always be an unforgettable man."
Mr Devlin knew Seamus as a quiet schoolboy who grew to be a "famous friend with a country accent and home-grown personality."
"He walked up the side of the road for years on his way to school," said Barney.
"Every time Seamus was about he called in. He then wrote a poem about the forge and the visitors came in carloads.
"One day Seamus came himself and I'll never forget it. People don't realise it but he actually wrote the poem before he even crossed the dark door. When he arrived he laughed because everything was in place as he wrote it."
Barney has an enlarged photograph of himself with Seamus above the television in the family home.
He also has a handwritten version of The Forge framed with a comment from Seamus saying "hammer on Barney."
"When I heard the sad news it annoyed me immensely. He was a grand fella and I knew all of his family. He'll be sadly missed."
Although the forge, which has been well preserved, has become a tourist attraction, his birthplace just a few hundred yards down the Hillhead Road has long since been knocked down.
Barney added: "Seamus was a very humble man known for his poetry yes, but locally known for his football, farming, humour and community spirit."