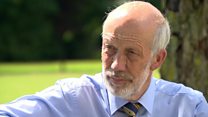 Video
David Ford says: 'It's the right time to leave'
The former Alliance leader David Ford is stepping down from Stormont, 20 years to the day since he became an MLA.
The 67-year-old was first elected as a councillor in Antrim in 1993, before going on to win a seat in the assembly.
He took up his role at Stormont on 1 July 1998, representing the South Antrim constituency. In 2010 he became justice minister - the first local politician in that role in nearly 40 years.
In an interview with BBC News NI, Mr Ford said the time was right to leave politics.
"I think given now I'm a couple of years past the retirement age, it's the right time to leave to get someone else established while the assembly is not functioning normally so they can be ready to go when the assembly is restored," he said.