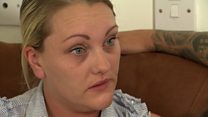 Video
Sophia Gibson's parents welcome medicinal cannabis review
Parents from County Down who have been campaigning to get medicinal cannabis oil for their daughter have welcomed the news that its use is to be reviewed.
Sophia Gibson, six, from Newtownards, suffers from a severe form of epilepsy known as Dravet syndrome.
Her parents, Danielle and Darren told the BBC that the medicine relieves their daughter's condition.
A review, announced on Tuesday, could lead to more prescriptions, the home secretary said.
However, Sajid Javid stressed the drug would remain banned for recreational use.
The decision was prompted by recent high-profile cases of children with severe epilepsy being denied access to cannabis oil to control seizures.
Mr and Mrs Gibson said that while they welcomed the news, they feel they cannot wait any longer for a license to be approved.
Sophia first had access to the oil when her family took her to The Netherlands to get medical cannabis.