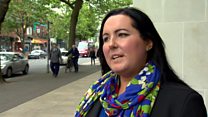 Video
Bangor woman gets £25,000 in settlement
A County Down woman who took a sex discrimination case against her employer related to her pregnancy has been paid £25,000 in a settlement.
Ruth Faulkner, from Bangor, had worked at Intern Europe Ltd since June 2010 as a work placements officer.
During her maternity leave, Ms Faulkner had asked to work the same hours in a different pattern, to help her with her childcare commitments.
The company reduced her hours.
Intern Europe Ltd said it had been facing financial difficulty and made some hard decisions in order to cut costs.
It did not accept liability and "no way selected the claimant because of her pregnancy, or issues related to it".
The company sincerely apologised for causing upset to Ms Faulkner, but said this was not intentional.