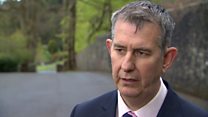 Video
Edwin Poots: 'There was no conflict of interest'
Edwin Poots says there was "no conflict of interest in any way, shape or form".
Mr Poots' son Luke is being scrutinised by the watchdog that oversees standards in local government for voting in favour of planning decisions lobbied for by his father.
Luke Poots has announced he will no longer take part in decisions of the committee when his father makes a representation.
One of the allegations involves a controversial housing development in Hillsborough which Luke Poots voted in favour of despite planning officials recommending it be turned down. His father had lobbied for the scheme to be given the go-ahead.