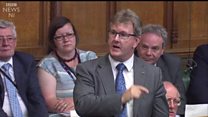 Video
DUP anger after party branded 'dinosaurs'
The Green Party MP Caroline Lucas branded the DUP "dinosaurs" during a debate on the Queens Speech in the House of Commons on Wednesday.
The Brighton Pavilion MP suggested that the lack of bills concerned with the environment in the government's legislative program was influenced by the DUP.
The Tories are engaged in negotiations with the DUP to try and find a deal which would see the Northern Ireland party support the minority government in parliament.
Objecting to the use of the term "dinosaurs," the DUP's Jeffrey Donaldson reminded the House of Commons of the DUP's mandate and invited Ms Lucas to read his party's manifesto.