Media player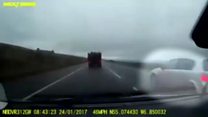 Media playback is unsupported on your device
Video
Dashcam footage of 'worst driving' judge has seen
Dashcam footage shows what a judge at Limavady Magistrates' Court called among the 'worst driving' he has ever seen.
Jessica Stirling of Grasmere Court, Coleraine, was overtaking in wet conditions when she met an oncoming lorry, forcing her to swerve onto the hard shoulder.
Footage of the manoeuvre on the road between Coleraine and Limavady was posted on social media and has been viewed more than 300,000 times.
Read more here.