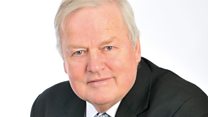 Video
Conservative MP Bob Stewart says "sometimes" torture might work and be justified
Bob Stewart - the Conservative MP and former army officer - has told BBC Radio 5 Live's Daily programme that torture is "sometimes" justified.
He made the comment after remarks about torture made by US President Donald Trump.
He said: "We don't like torture, no-one likes torture - not even Trump likes torture.
"The fact of the matter is, as we both accept, sometimes it might work, and sometimes it might be justified."
He also said that, based on modern definitions of interrogation techniques, he had "technically" been "kind of torturer" during the Troubles in Northern Ireland in the 1970s.