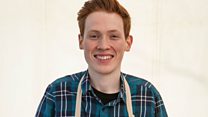 Video
Finalist Andrew's parents on keeping the result under wraps.
It was the moment watched by millions - as the winner of the Great British Bakeoff was revealed. Candice Brown may have won, but Andrew Smyth hardly let himself down. The Northern Ireland man was a worthy runner up and even won the technical challenge.
His mother, Kay, said: "We are absolutely delighted, we had a fantastic day and watched the final together with the other two finalists. They are such a nice bunch of people."
It was the seventh series of Bake Off, which will return at the end of the year for a Christmas special.
Nigel, his father said: "It's a very hard secret to keep, but we are the proudest of parents," with Kay adding, "we have known since June, it turns out we are very good add keeping secrets!"
This clip is originally from 5 live Breakfast on Thursday 27 October 2016.