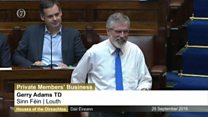 Video
Sinn Féin's Gerry Adams jokes 'teddy bears are virgins'
The Sinn Féin leader Gerry Adams has informed the Irish parliament his "teddy bears are virgins" during a debate on water charges.
The remark was prompted by Fianna Fáil members after Mr Adams congratulated his Sinn Féin colleague Lousie O'Reilly on her wit.
She had just accused Fianna Fáil of having "more positions than the Kama Sutra" on the issue of water charges.
Mr Adams replied: "I am sorry I did not think of it myself.
"Fianna Fáil and the Kama Sutra - the mind boggles."
Gerry Adams' fellow Louth TD, Fianna Fáil's Declan Breathnach, responded: "I hope Deputy Adams' teddy bear is ruled out of it."
"My teddy bears are virgins,"Mr Adams replied.
Gerry Adams' relationship with his teddy bears and his online persona have long been the subject of media scrutiny.