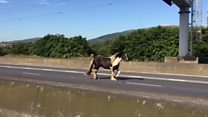 Video
Runaway horse stops motorway traffic on Belfast's M1
A runaway horse has brought traffic to a halt as it trotted along the M1 outside Belfast.
The horse was filmed trotting down the city-bound carriageway just before the Broadway roundabout at about 10:00 BST.
"It was an accident waiting to happen, with rubberneckers bringing their cars to a dead halt to take a look," said BBC cameraman John Morrissey, whose son filmed the incident.
Several police officers – one armed with a rope – tried to bring the horse under control as it left the motorway and made its way up the Donegall Road towards the Falls Road before reportedly being cornered on a side-street.
In May, three runaway cows caused rush-hour delays for drivers on the M1 in County Antrim.