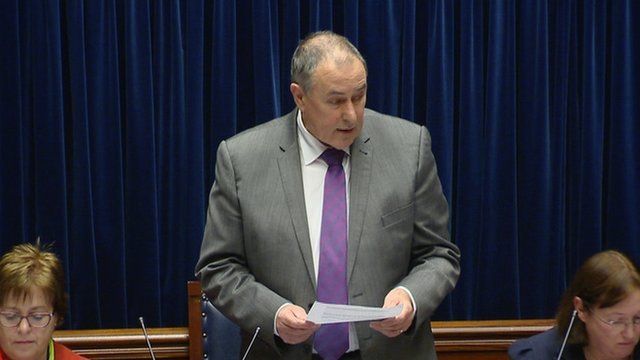 Video
'Curry my yoghurt': Speaker calls Gregory Campbell comments 'clearly ridiculous'
The Northern Ireland Assembly speaker has said that comments by Gregory Campbell came across as "clearly ridiculous" and "undermined the dignity of the house".
Mitchel McLaughlin, who took over the role of assembly speaker while the DUP's William Hay recovers from health problems added that if it was Mr Campbell's intent to create humour, it "failed miserably".
A row developed on Monday, after Mr Campbell began his address to the assembly with: "Curry my yoghurt can coca coalyer".
It was a parody of the Irish sentence "go raibh maith agat, Ceann Comhairle" which means "thank you, speaker" and is used by Sinn Féin in the chamber.
Mr Campbell was subsequently barred from addressing the assembly for the day in the absence of an apology for his comments.
Go to next video: 'Pure ignorance' clash over language