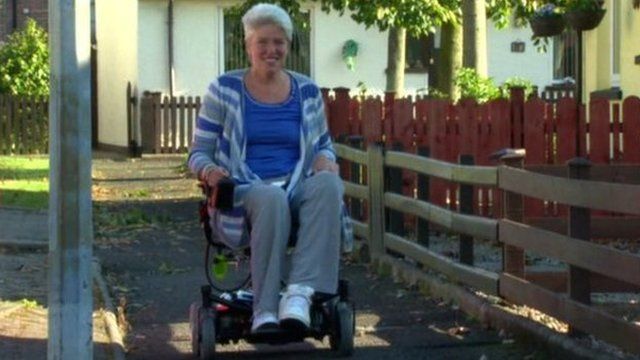 Video
Andrea Brown: Disabled IRA bomb victim gets 'new lease of life'
An IRA bomb victim who complained to Prince Charles about not having an electronic wheelchair has been given a new lease of life after a family she had never met heard her story.
Andrea Brown from Moira, County Down, suffered not once, but twice, as a result of the Troubles in Northern Ireland.
Her father, who was a policeman, was shot dead when she was a teenager.
Five years later, she was caught up in an IRA bomb as she shopped for a wedding dress in Lisburn, County Antrim.
The 1988 bomb, which targeted a fun run, killed six soldiers and left Ms Brown badly injured.
Just over a week ago, she met Prince Charles at the National Police Memorial Day in Belfast and told him about her difficulty in getting an electronic wheelchair.
After her story appeared on the news, a family she had never met called at her house in Moira and gave her a chair worth £4,000.
BBC Newsline's Mark Simpson reports.
Go to next video: Victim's call to set aside differences