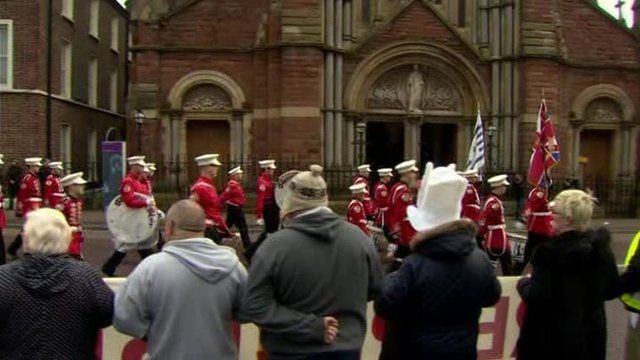 Video
Apprentice Boys parade: Statement 'could stop march protests'
Nationalist residents in the Carrick Hill area of Belfast have said they would hold no further protests if all marches past their local Catholic church were conducted in the same manner as Monday's Apprentice Boys' parade.
There was a heavy security presence at St Patrick's Catholic Church on Belfast's Donegal Street as one band marched to a single drum-beat.
Both the outward and return leg passed without incident.
Frank Dempsey from the Carrick Hill Concerned Resident's Group said there would be no need for residents' protests in future, if the Apprentice Boys issued a statement confirming their intention to abide by Parades Commission's determinations.
Helen Jones reports.