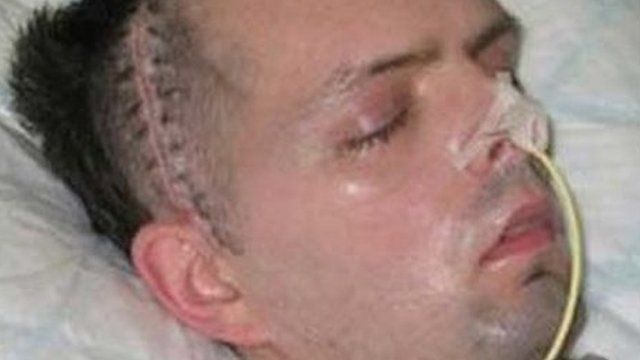 Video
Brain injury victim's family disgusted at 'work' letter
A man from Northern Ireland, left in a permanent vegetative state following a sectarian attack, has been asked by the Social Security Agency if he is fit for work.
Paul McCauley, 36, was attacked by a gang at a barbecue in the Waterside area of Londonderry on 16 July 2006.
He suffered severe brain injuries and requires round-the-clock care. One man is serving 12 years for his part in the assault.
Mr McCauley's father Jim told BBC Radio Foyle's Gerry Bradley that a 12-page document with 30 questions was received on 23 December 2012.
"In the majority of the questions we had to record that our son is in a permanent vegetative state," he said.
A spokesperson for the Social Security Agency said: "Whilst the Social Security Agency is unable to comment on individual cases, it does acknowledge that asking family members to complete complex benefit forms on behalf of their ill relative can sometimes be both difficult and emotional.
"In all cases the agency writes to and telephones all claimants to talk them through the process and offer support", they added.