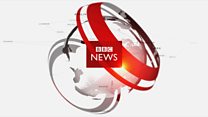 Video
My synthetic Yorkshire voice
A synthetic voice with a Yorkshire accent is being created for a man with motor neurone disease (MND).
Jason Liversidge, 41, originally from Scarborough, North Yorkshire, was diagnosed with MND in 2013 and knows one day he will lose the ability to talk.
Specialists at the Anne Rowling Clinic in Edinburgh are working to create a voice for him which can be controlled by eye movements.
They have used the voices of 20-30 men who are from the Scarborough area.
This video has been optimised for mobile viewing on the BBC News app. The BBC News app is available from the Apple App Store for iPhone and Google Play Store for Android.