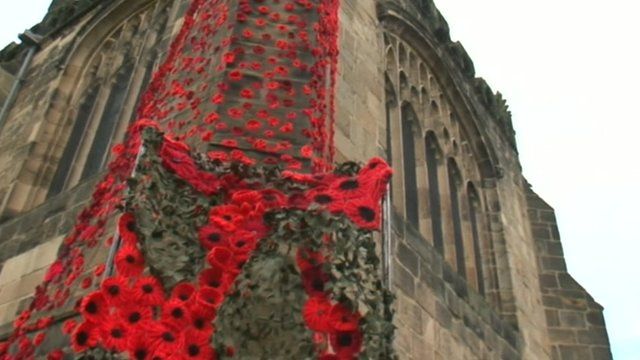 Video
Thirsk Yarnbombers ready with 35,000 knitted poppies
More than 35,000 poppies have been hand-made to decorate a North Yorkshire market town.
Thirsk Yarnbombers organised the huge poppy knit, and said volunteers had sent in knitted and crocheted flowers from all over the world.
The main display is on the side of St Mary's Church, and more poppies will be put up along the route of the town's Remembrance Day parade on Friday 11 November.
Ann Akers, of Thirsk Yarnbombers, said: "We've had parcels from Australia, Spain, Portugal, you name it we've had parcels from there.
"We've had donations of wool, money, poppies.
"One of our ladies actually went to the beach at Normandy with her daughter and granddaughter and spent the day crocheting poppies there and wondering what it would have been like on the day."
In September, the yarnbombers appealed for people to knit woolly jumpers for bald ex-battery hens.