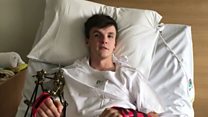 Video
Cricketer vows to play again after Australia car crash
Billy Cookson had a head-on collision at the wheel of his car on his first day in a job that would pay for a winter of cricket near Melbourne.
The 23-year-old from Chippenham in Wiltshire suffered punctured lungs, a torn liver, a broken leg and both ankles, and the partial amputation of his right elbow.
His friends in Trowbridge and Wiltshire where he is a wicket keeper and batsman rallied to his support when they heard the news.
They raised £6,000 with an auction and £7,000 online to help during his recovery.
His family says it could be nine months before he is fit enough to return home.
Mr Cookson said he was determined to play cricket again one day.
Go to next video: Boy, 10, meets his 'superman' life-saver