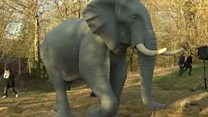 Video
Life-size statue of famous bull elephant unveiled in Swindon
A life-size replica of a bull elephant from northern Namibia has been unveiled in a garden in Wiltshire.
The statue of Hoarusib bull elephant was created by Liddington artist David Lomax in 1992.
Three bronze statues were cast from the plaster mould and shipped to Los Angeles, Australia and Mexico.
The remaining cast original - which has been in the artist's workshop for more than 20 years - has been installed in a garden in Liddington.
Mr Lomax, said Hoarusib was "legendary" for luring poachers away from the dry river beds of the Skeleton Coat and on to the sand dunes where their trucks would get stuck.