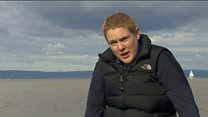 Video
Cancer mum: 'I could give up or I could live and make every moment count'
A woman from North Somerset who is battling a rare form of breast cancer says she wants to do all she can to leave a legacy for her children.
Heidi Loughlin found she had the disease when she was pregnant with her third child last year but delayed treatment so she could continue the pregnancy. Ali Louise was born 12 weeks early, but died eight days later.
The mother-of-two from Portishead has spoken frankly of her battle with the disease and how easy it would be to give up, but she has vowed to carry on.
"My legacy to the boys is that I still carried on and I'm still positive... I want the boys to see I keep going, I was a warrior."