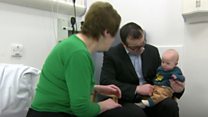 Video
Chronic myeloid leukaemia trial sees prolonged lifespan
A woman who was diagnosed with a rare blood cancer 20 years ago says she feels "very blessed" to have taken part in a drugs trial which has kept her alive.
Jean Boyd, 68, was diagnosed with chronic myeloid leukaemia (CML) in 1996 and told by doctors she only had a few years to live.
Mrs Boyd said she was "probably going to die anyway", so decided to take part in a new clinical trial in Newcastle which saw patients take one tablet a day to help manage the disease.
Cancer Research UK said the results were "promising" but dosages should not be changed without a doctor's advice.
Read more: http://www.bbc.co.uk/news/uk-england-tyne-38680482