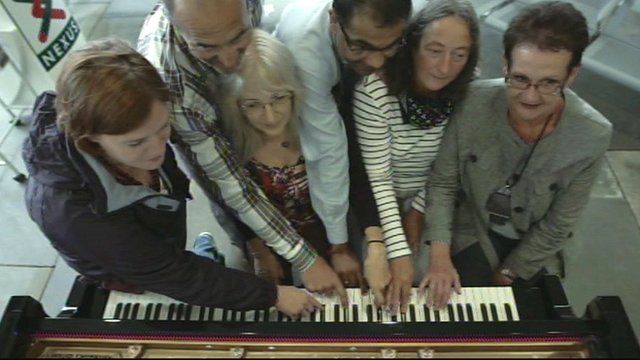 Video
Bus passengers playing Beethoven
A Newcastle artist has invited city bus passengers to accompany him playing Beethoven on a grand piano as part of a unique arts project.
Anton Hecht set up in the Haymarket Bus Station in the city centre and over the course of a day in August asked commuters to sit alongside him and play a few notes of Beethoven's Moonlight Sonata.
The project, part-funded by the Arts Council, resulted in a short film which can be viewed on You Tube.
Anton, from Newcastle, made the film by setting up a piano surrounded by cameras in the middle of the busy Haymarket bus station, used by three million people a year.
Musician Andy Jackson sat at the keyboard and invited passers-by to step forward and help him play Beethoven's famous Moonlight Sonata - with each supplying one or two notes at a time.
For the film each contribution was edited together to make an almost seamless performance, with the idea of it being as much about the people who pass through a city bus station as the music itself.
Anton said: "I hadn't really imagined how excited the commuters would be to get involved, and to chat about their own experience with music while taking part.
"I cannot really explain what has finally emerged from the video, but it is a truly communal playing experience."
Huw Lewis, of Nexus, the passenger transport executive which manage the bus station and helped fund the project, said: "It is amazing this simple, clever, idea has found such a wide audience.
"It tells a story about the many different people you might meet on a bus, and that, by getting together, we can all create something a little special."