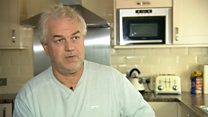 Video
Sussex Health Care probe: Son 'not told about mother's death'
A man whose mother's death is being investigated as part of a probe into private care homes run by Sussex Health Care has described how she died and how he is still waiting for answers.
Adrian Tilley said his mother had a fall and was taken to hospital - but he has said none of the care home staff informed him about what had happened.
Sussex Police have raided nine care homes and officers are investigating an alleged lack of care and safeguarding of 43 people. Twelve of those people have since died.
The force said its police investigation was ongoing and no arrests had been made.
In a statement, Sussex Health Care said the company was continuing to work openly with the police and West Sussex County Council.
It said: "We firmly believe that, as an organisation, our care practices and training are of a high standard, and that we continue to provide quality care on a daily basis. Our intention throughout this time is to assist the investigation and to continue focusing on providing good quality care to all the people we are privileged to support."