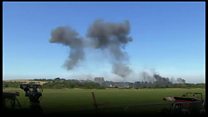 Video
Compensation for two air crash families
Two families of the victims of the Shoreham air show crash are to receive compensation.
The owners of the vintage jet that crashed during last year's event, killing 11 men, have settled two compensation claims, according to a lawyer for the victims' families.
James Healy-Pratt, of Stewarts Law, said aircraft owners Canfield Hunter Ltd admitted responsibility in 2015.
He said the firm had also nearly resolved a third claim.
The owners said the admission was a statutory requirement and they could not comment further on compensation.
The Hawker Hunter jet crashed on to the A27 in West Sussex during the air show on 22 August last year.