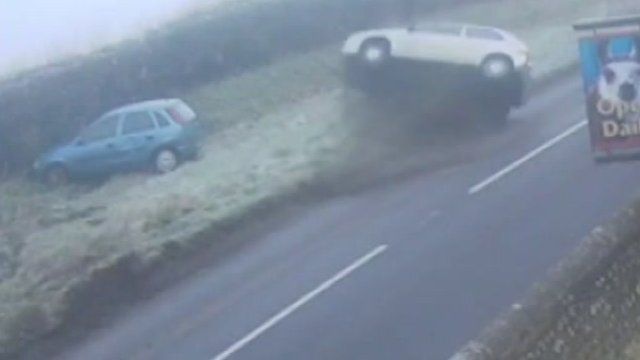 Video
Alfriston driver escapes as car somersaults in icy weather
A driver walked away with only minor injuries after a car somersaulted twice and ended up on its roof in a crash on icy roads in East Sussex.
Sussex Police said the outcome for the woman, aged in her 20s, could have been much worse when she lost control of her Citroen Saxo, in Alfriston.
Police issued the CCTV footage as a warning to motorists to take care after the Met Office forecast that during Tuesday morning's rush hour, temperatures could fall to -2C in the area.
Moments earlier on Thursday morning a Vauxhall Corsa also skidded and left the road at the same spot. Its driver also received minor injuries.
"Remember to be aware of microclimates - this is where the road surface may be cooler in certain places, for example on a bridge or in an area which is obviously higher up or more exposed to the elements," said Sgt Dan Pitcher.