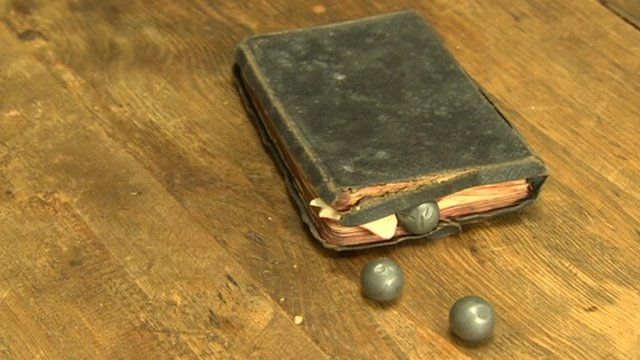 Video
Bullet in Eastbourne soldier's bible 'was God's miracle'
The grandson of a World War One soldier who attributed his survival to a miracle from God, has described what happened when his grandfather's bible was hit by shrapnel.
George Vinall, from Eastbourne in East Sussex, was 25 years old when he dived into trenches to avoid shell fire.
When he later looked through the coat left where he had been sitting, he found a shrapnel bullet embedded in a crucial verse in his bible.
Later he went on to translate bibles around the world.
BBC South East Today's Paddy O'Connell spoke to Hazel Southam, of the Bible Society, Stephen Vinall, the soldier's grandson, and historian Andrew Robertshaw.
Go to next video: Archives highlight WW1 conscription