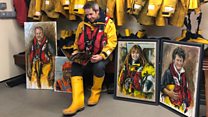 Video
Aldeburgh lifeboat member paints crew to honour them
A lifeboat volunteer has created a "lasting legacy" of his crew by painting portraits of them.
The 30 oil-on-canvas, which also captured the station dog, took artist David Gillingwater a year to complete.
The portraits mark 20 years of Mr Gillingwater being a crew member and are going on display at The Garage Gallery in Aldeburgh, Suffolk.
The gallery hopes to raise money for the town's lifeboat.
"This exhibition gives some of those faces, shows the diversity, shows the different types of people that all go together to form the RNLI and this station especially," said Mr Gillingwater.
Go to next video: Model U-boat marks WW1 surrender