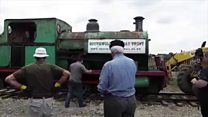 Video
Southwold railway enthusiasts adopt old locomotive
The group trying to re-establish the railway line between Southwold and Halesworth have taken delivery of an old steam locomotive.
The Scaldwell was built in Bristol in 1913 by Peckett for the ironstone industry and it spent its working life in Northamptonshire.
The Southwold line, which used to run across what is now the footbridge over the River Blyth, was a 3ft gauge line - smaller than the standard railway tracks.
The line closed in 1929, long before the infamous Beeching cuts to rural railways in the 1960s.
The Southwold Railway Trust has been given the Scaldwell by the Amberley Museum in Sussex, but they estimate it will cost £50,000 to £150,000 to restore it, depending on the condition of the boiler.
For more on this and other stories, visit BBC Local Live: Suffolk