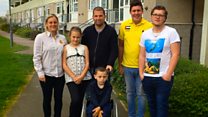 Video
Shane Yerrell: The crowdfunding superhero who raises money for strangers
A man who works with adults who have learning disabilities has told how he felt compelled to help complete strangers by raising money for them.
Shane Yerrell, 33, from Waltham Abbey, Essex, has raised more than £20,000 for a variety of causes since 2011 by setting up crowdfunding appeals, climbing mountains and shaving his hair off among other things.
"When I read stories in the news, I get a bit more affected by them than most people do," he said.
His efforts have been recognised with a Pride of Essex award and a British Citizen Award in the last few years.
Go to next video: How does crowdfunding work?