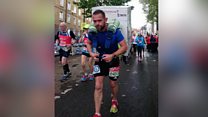 Video
London Marathon: Guinness World Record for tumble dryer runner
A roofer from Suffolk ran his way into the record books by completing the London Marathon with a tumble dryer on his back.
Ben Blowes, 44, from Newmarket, ran the capital course chasing a Guinness World Record for the fastest marathon carrying a household appliance.
He crossed the line in a record-breaking time of five hours, 58 minutes and 37 seconds - Mr Blowes had to do it in less than six hours to get the record.
Mr Blowes raised money for Racing Welfare, a charity that supports the workforce of the British horseracing and thoroughbred breeding industry.
He said he was "elated" with his achievement and his tumble dryer was "last seen on a skip somewhere along the Mall".