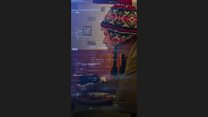 Video
Lauri Love: Hacking suspect will 'consider suicide' if appeal fails
A hacking suspect facing extradition to the US has said he will consider taking his own life if his appeal fails.
Lauri Love, who has Asperger's syndrome, is appealing against an extradition order signed last year by the home secretary.
The 31-year-old from Stradishall, Suffolk, is suspected of hacking into the FBI, the US central bank and Nasa systems.
Mr Love said: "If it is a choice between being subjected to the US justice system or choosing to end my own life then I do reserve the right to do so."
An appeal against Mr Love's extradition order is expected to be held at the High Court later in the year.