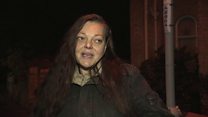 Video
Ipswich sex worker murders: Woman back on streets 10 years on
A sex worker says she has returned to working the streets of a town where five women were murdered 10 years ago.
The woman, named only as Sophie, told the BBC she was working in an area close to where killer Steve Wright once lived in Ipswich.
Suffolk Police and other agencies began a strategy to end street prostitution in the town after the 2006 murders.
They said the campaign had been a success and earlier this year said they had received no reports of women walking the streets.
Sophie told the BBC she would accept help if offered it.
"I would take it," she said. "I didn't take it at the time [2006], I was naive and stupid."