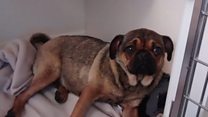 Video
Dog thrown from car in Essex paralysed but wags tail
A dog which has been paralysed after being thrown from a moving car has received "lots of TLC", the RSPCA says.
The tan-coloured pug, now called Crumble, was discovered at the side of the road in Writtle, Essex on Wednesday.
The RSPCA says the dog has no feeling in her back legs and officers are unsure whether or not she will survive, but there has been some hope after she wagged her tail.
For this and more stories, visit BBC Local Live: Essex
RSPCA inspector Lucy Brennan said: "It isn't clear whether Crumble sustained these injuries during this horrific incident, or whether she had already suffered these injuries and those responsible were simply trying to get rid of her.
"As our extensive investigations into the unscrupulous, underground puppy trade have revealed, puppy farmers have little use for a breeding bitch when she can no longer produce puppies for them to sell."