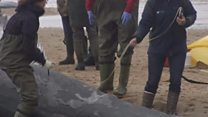 Video
Fin whale found on Norfolk beach 'could have starved to death'
A fin whale that washed up on a Norfolk beach could have died of starvation, an early diagnosis has indicated.
The 40ft (12m) whale was discovered by wardens at the Holkham National Nature Reserve on Thursday. The Cetacean Strandings Investigation Programme (CSIP) was contacted to carry out the post-mortem examination and full results are expected later.
Evolutionary biologist Dr Ben Garrod said it was "really unusual" for a fin whale to be found in the shallow seas off the east coast as its normal habitat was the deep ocean.
The nature reserve is now making arrangements to dispose of the carcass, which the public have been warned not to approach too closely.