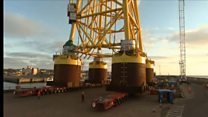 Video
Lowestoft offshore engineering firm SLP 'needs wind farm contracts'
An engineering firm is warning it is facing increased competition, from countries including Poland, for contracts to supply wind farms off the East Anglian coast.
SLP, which employs about 400 people in Lowestoft, has been celebrating the completion of a 1,000-tonne "jacket" it has built for the Dudgeon wind farm which is being built north of Cromer.
The oil and gas industry does not need any new structures at present, meaning firms are competing solely for wind farm projects, such as the East Anglia One project off Suffolk.
Paul Thomson, business development manager of SLP, said: "Obviously we have to be more competitive than our foreign competitors, and we'd be very disappointed if [future contracts] didn't stay in Lowestoft or the UK."
A decision on who gets the East Anglia One contract is due in September.