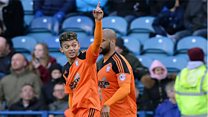 Video
Jason Dozzell says son Andre's Ipswich goal was 'moment money can't buy'
The father of a 16-year-old footballer who emulated his achievement in scoring on his first-team debut has said it was a moment "money can't buy".
Former Ipswich Town midfielder Jason Dozzell travelled to Sheffield on Saturday to watch his son make his senior debut for Mick McCarthy's side.
Andre Dozzell came on as a second-half substitute and scored in the 1-1 draw with Sheffield Wednesday, matching his father's achievement in 1984.
"Some things money can't buy," Dozzell senior said. "And that was one of them."
Jason Dozzell still holds the record for being the youngest player to score in the top flight.