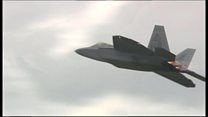 Video
F-22 Raptor takes off from RAF Lakenheath
Aeroplane enthusiasts in Suffolk have been treated to a sight of the United States Air Force's latest jet fighter, which is making its first deployment in the UK.
A fifth generation F-22 Raptor, one of eight sent to RAF Lakenheath from Tyndall Air Force Base in Florida, went on a display flight to mark its official arrival.
The stealth jets are in the UK until May for a training exercise with other Europe-based aircraft and one is shown here flying from a different airbase.
Col Dave Eaglin, vice commander of the USAF 48th Fighter Wing, based at Lakenheath, said: "We've never had F-22s, the fifth generation, over in England."