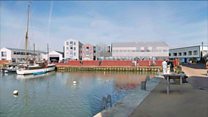 Video
Woodbridge Whisstocks £10m development project under way
Work is getting under way on a £10m waterfront development to replace a boatyard which has been derelict since 1990.
The Whisstocks project in Woodbridge will provide apartments, townhouses, community facilities, restaurants and shops overlooking the River Deben.
FW Properties is behind the project which it hopes to complete by spring next year.
Along with the Nunn's Yard site on Quay Side, the project includes 19 apartments, seven townhouses, commercial space, space for Woodbridge Museum to move and a "community boatshed" where a replica Anglo-Saxon ship will be built.
Read more on this and other stories at BBC Suffolk Live
Julian Wells, company director, said: "Underpinned by heritage and designed for the modern world, the development is set to become a focal point for locals and visitors."
Kay Yule, Woodbridge Town Council member for Riverside ward, said: "The two community buildings - the Woodbridge Museum and the Longshed - combined with the attractive new public space make this a really exciting and significant project for the whole community."
The Woodbridge Riverside Trust has been involved in the planning of the project to ensure there was community use of the site.
This includes the Anglo-Saxon boat project, a musical gala for the re-opening of the site and ongoing heritage projects involved local schools and colleges.
Malcolm Hodd, one of its trustees, said: "Having negotiated for four years for our own community Longshed and the use of the existing public space and waterfront, we now look forward to developing our projects."
Artist impressions courtesy of Paul Weston Architect in collaboration with Curry-Hyde LLP.