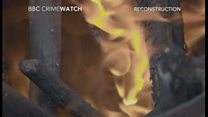 Video
John 'Goldfinger' Palmer's family speak out in Crimewatch appeal
The family of murdered conman John "Goldfinger" Palmer have told BBC Crimewatch he had been living a "normal" life prior to his death.
The 65-year-old was shot at his Essex home last June in what police believe was a contract killing.
He had served time in the UK for his part in a time-share fraud and was due to stand trial in Spain on other charges.
As part of the televised appeal for information about his death in South Weald, his partner Christina Ketley said she was "incredibly proud" of the way he had "readjusted to a very, very normal life".
His son James said his father was "never serious about anything" and the pair used to spend "quality time" together.
Crimewatch will be broadcast at 21:00 on Thursday on BBC One.