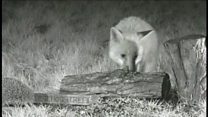 Video
Hedgehog and fox filmed feeding in Rushmere St Andrew garden
A wildlife enthusiast has filmed a fox and a hedgehog feeding together in his back garden.
Jason Alexander has created a "hog buffet bar" to encourage hedgehogs, which have declined in numbers in the UK.
Footage of the pair of animals was taken at his home in Rushmere St Andrew near Ipswich.
It forms part of Suffolk Wildlife Trust's survey of hedgehogs in the county, which found the urban area of Ipswich was a "hotspot" due to its network of parks, cemeteries, allotments and gardens.
Mr Alexander has a website called Wildlife Gadgetman which aims "to discover how we can use modern society's love of gadgets to re-ignite a passion for wildlife and the natural world".
Go to next video: Wildlife frequents hedgehog buffet bar