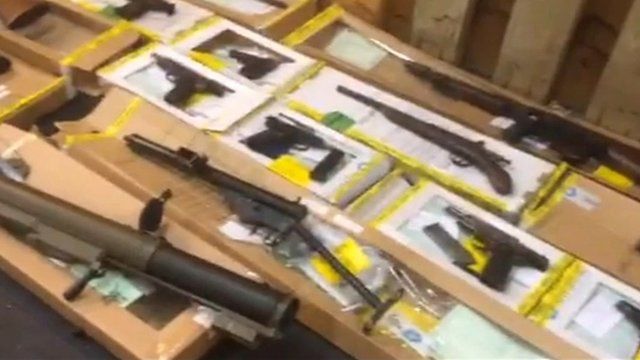 Video
Firearms dealer guilty in James Arnold Wyverstone gun hoard case
The UK's biggest stash of illegal weapons has been revealed by police following the conviction of a firearms dealer.
Anthony Buckland, 65, from Stoke Holy Cross, Norfolk, was found guilty of helping a parish council chairman amass the hoard.
Police found more than 400 firearms at James Arnold's home in Wyverstone, Suffolk, in April 2014.
Arnold, 49, was facing charges including owning a Uzi sub-machine gun, died from cancer before going to court.
Live updates: More on the discovery of the UK's largest weapons haul
Buckland denied all charges but jurors at Norwich Crown Court found him guilty of 11 counts of selling a prohibited weapon and nine of fraud by false representation. He has been jailed for six years.
At an earlier court hearing, the discovery was described by prosecutors as the "biggest stash of weapons this country had ever experienced".