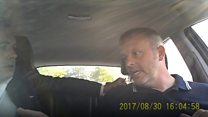 Video
BBC undercover reporter films plan to launder money
An undercover BBC investigation has found evidence of people advertising online to launder money.
Criminals are often prepared to pay someone to hide money made illegally, so it cannot be traced back to them.
The BBC's Jonathan Gibson secretly filmed a man called Tony in a car at a motorway services near Lichfield who offered to launder money using his credit card machine.
Tony later told the BBC he had been carrying out research into criminal activity and everything he had said was a lie.
The full investigation will be shown on BBC One Inside Out West Midlands, Monday 9 October at 19:30 BST, and will be available for 30 days on the BBC iPlayer.